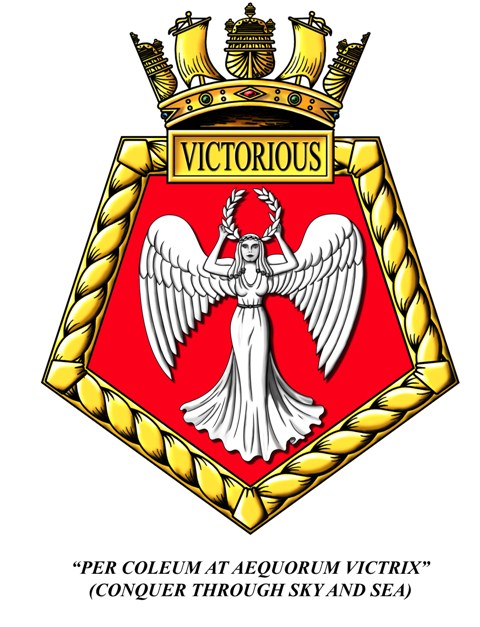 http://www.hmsvictoriousassociation.com/

Constitution
To encourage, promote and facilitate the liason of former shipmates and other personnel who served aboard H.M.S. Victorious.
To provide a central point of contact for members seeking contact with old shipmates.
To provide a membership list from time to time.
To do all things and to carry out all acts which shall, at the discretion of the Asscociation Committee be deemed necessary to benefit and perpetuate the objectives of the Association
Patron;
Vice Admiral Sir
Adrian Johns, KCB. CBE. ADC. (Second Sea Lord). C in C Naval Home Command
President;
Mathew Ball
Chairman;
Stan McClellan
3 Lynwood Gardens, Pudsey, Leeds LS28 8BZ
01132-555562.
Vice Chairman;
Donald Marr,
The Old School House, Seaview Terrace, Johnshaven, Montrose, Angus, DD10 0HF
0156-1361658
Donald.marr2936@btinternet.com
Honorary Secretary; Editor VIC News; Membership Secretary;
Stuart (Topsy) Turner
01785 245226
Annual Subscriptions of £10, should be forwarded to the treasurer:
Treasurer;
John Haigh
77 Harold Road Stubbington, Fareham Hampshire, CT9 5LD
Recruitment Officers;
John Haigh
77 Harold Road, Subbington, Fareham, PO14 2QP
Welfare Officer:
Peter Barnes
15 Elm Tree Avenue, Upper Poppleton York, YO26 6HL
01904-795249
Contributions to the Flat Top, should be sent to the;
Flat Top Editor;
Bryan L. Owen
93 Pytchley Road Rugby, Warwickshire, CV22 5NG
01788-570457
Association Padre:
Reverend John Mills
316 Berecroft, Essex, CM18 7SH
01279-417008
padre.victorious@btinternet.com
Slops Officer:
Edgar Jenkinson
144 Moseley Road, Coundon Coventry CV61HT
02476594244
jenkinsonedgar@hotmail.com
Please order embroidered clothing direct from http://absembroidery.co.uk/

Obituary's
Sad to say I have learnt that Arthur Leslie Darby who served as a National
Serviceman with 1931 Squadron from 1949 – 1951 and on the Victorious, has crossed the bar. Crash attended his funeral representing the Association
Tim Pigott posted on our web site that his father David Pigott passed away on
<![if !vml]>
<![endif]>
Monday 12th Feb aged 91. He served on Victorious as a Radar rating in the Pacific 1944 to 1945. He spent time ashore between ops in Australia with his mate Dickie Bird.
Taken from the Navy News obits Lt Cdr Derek Prior 849 Squadron, and Diving Officer Lt. Cdr William "Chippy" Norton have also crossed the bar.
None were Association Members but we wish them a safe anchorage

<![if !vml]>
<![endif]>
he Lowestoft Mini Meet is up and running August 20th
until 25th (Monday to Saturday) so far 3 of us have booked up in the Lord Kitcheners Memorial Centre Lowestoft. This is a charity sponsored hotel for ex service people.
Contact details Lord Kitchener
Memorial Holiday Centre
Manager: Steven Schofield
10 Kirkley Cliff,
Lowestoft,
Suffolk
NR33 0BY
Telephone: 01502 573564 Email: enquiries@kitchenerslowestoft.c o.uk
We will have a Gala dinner on Thursday (yet to be arranged exactly where) We will leave it up to you to make your own arrangements Stan and Cath are there for the week, the rest of us so far are just Wed to Friday, so the choice is yours when and for how long but do try to fit Thursday into your time

Don't forget to order your HMS Victorious Christmas Cards, early.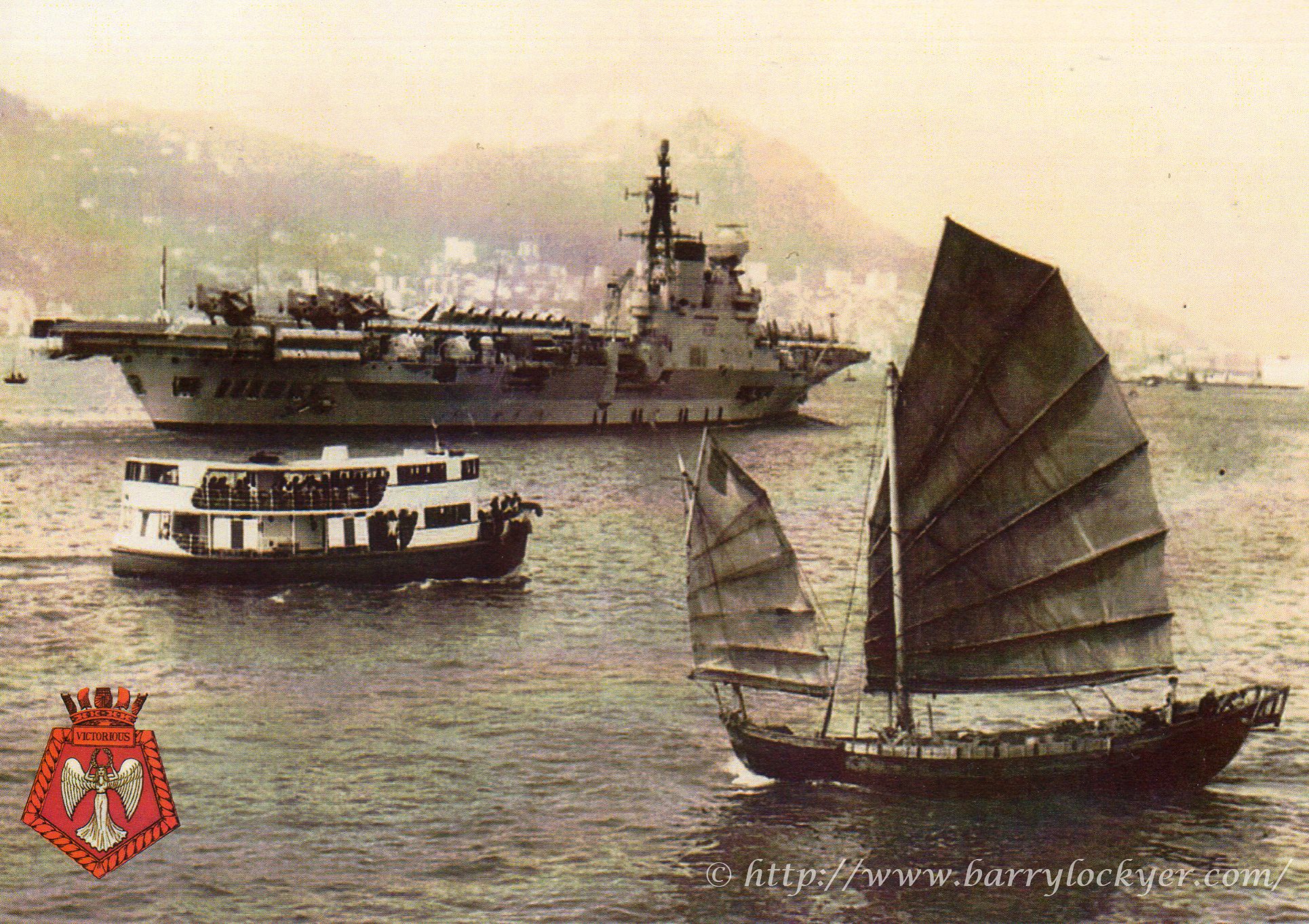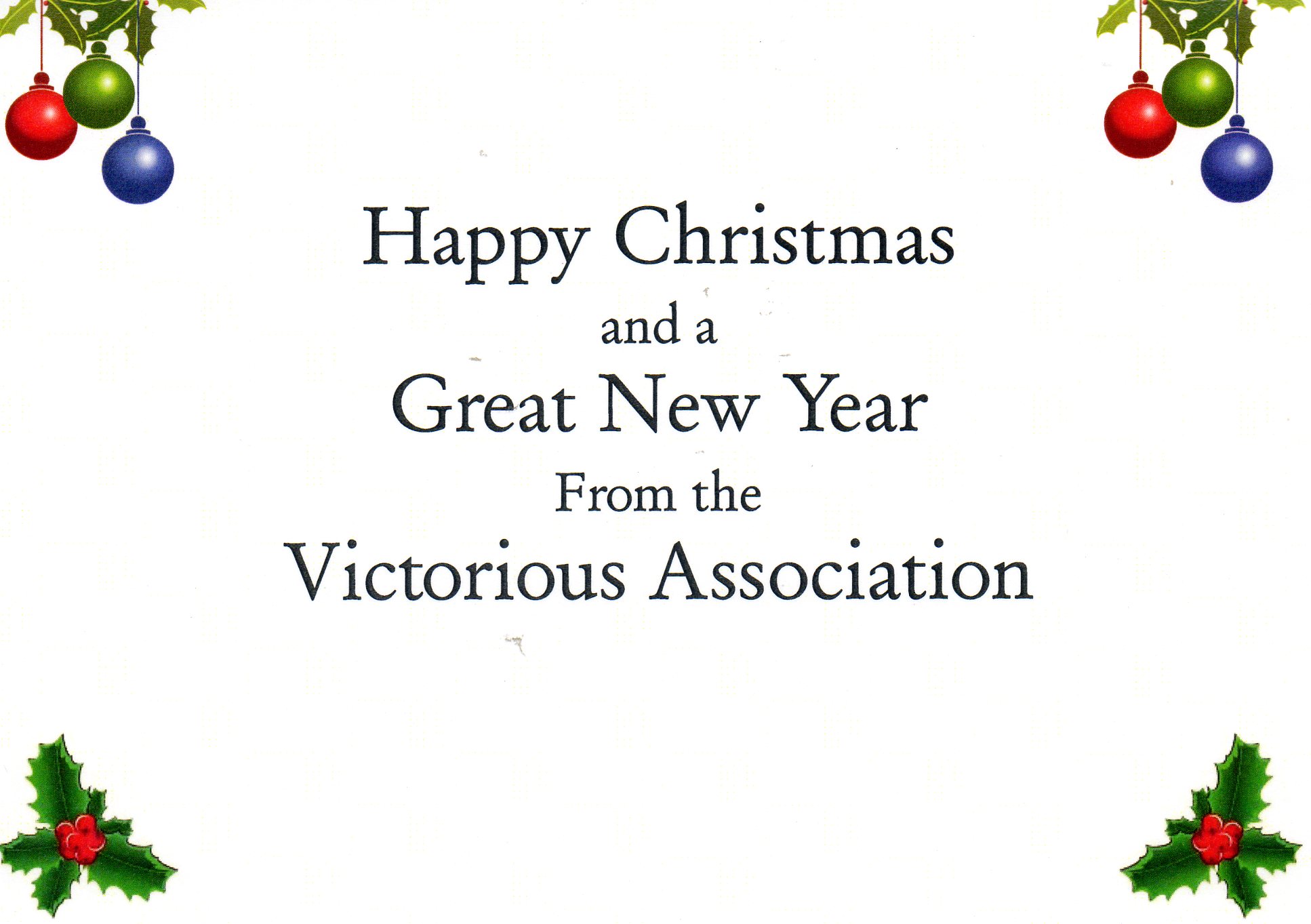 Our Vice Chairman Donald Marr Donald.marr2936@btinternet.com is seeking information on Acting Leading Aircraftman John Stewart (Ty) RN FAA/FX7310 who died on HMS Victorious August 12th 1942.
Donald is also seeking shipmates of CPO (E) H.P. Olorenshaw from the 1957 -1 1960 Commissiion.

On a miserable wet and chilly Saturday morning, 24th May 2009, Barry and Sharon Lockyer, Barry and Judy Snee were given the Royal treatment on a visit to HMS Victorious, Submarine S29, at Port Canaveral, Florida, USA.
The terrible weather conditions could not dampen the enthusiasm of the intrepid four and their host Mark Durkan.
The grand tour commenced with a sheer 25' drop on a vertical ladder that I am sure the two ladies had never experienced before, but by the end of the tour they were taking all the ladders in their stride, as experienced and badged submariners.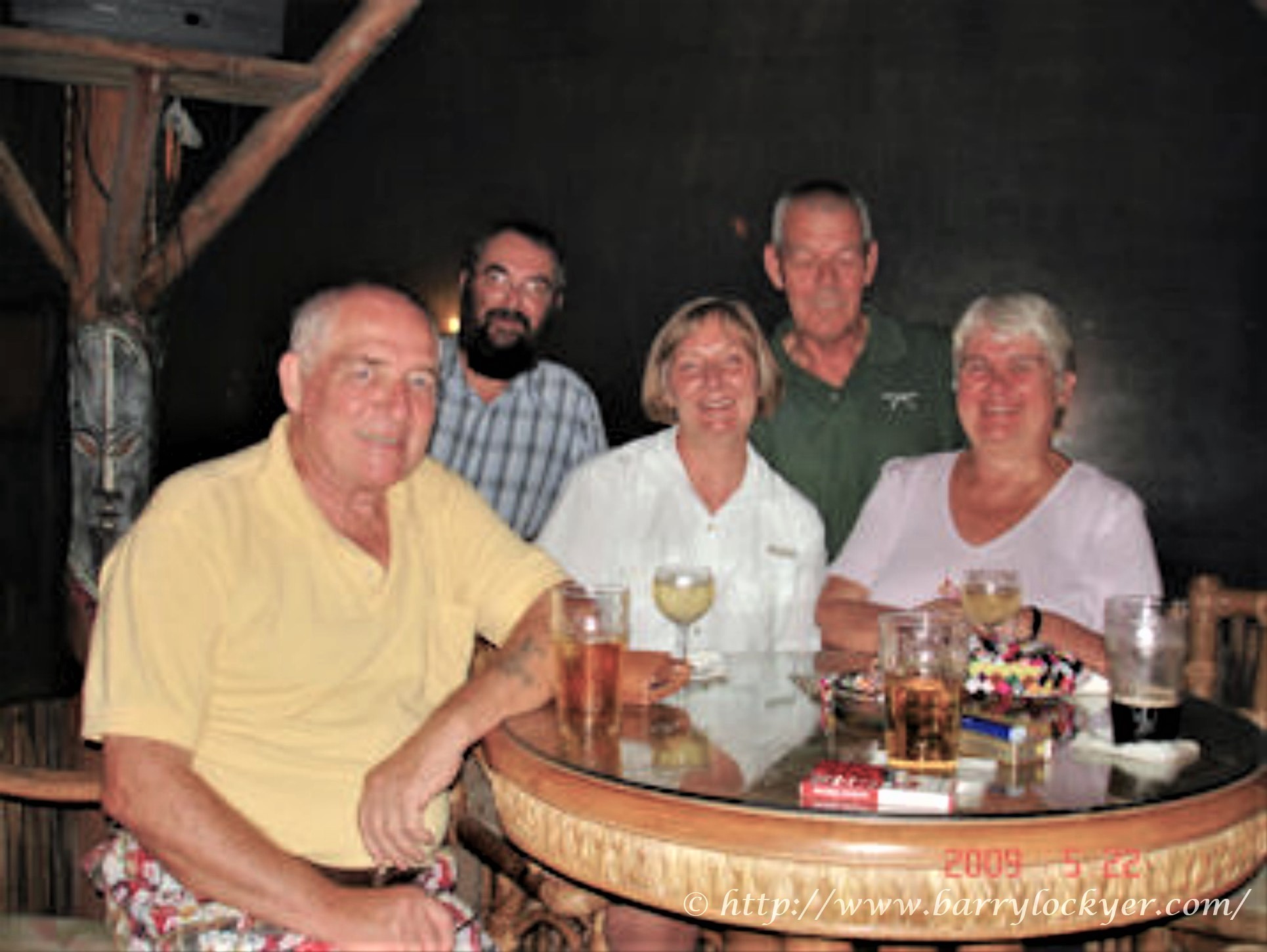 (a)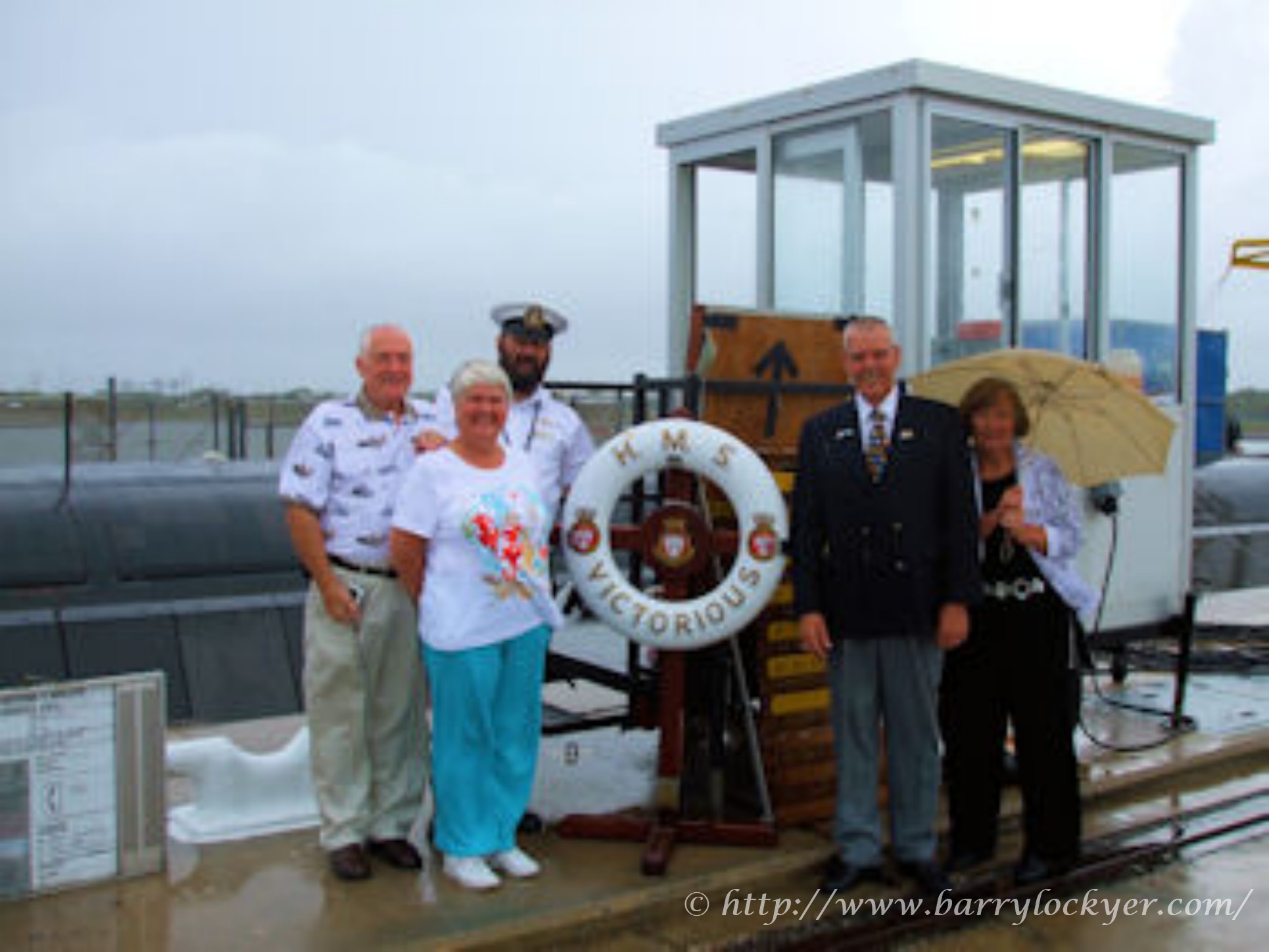 (b)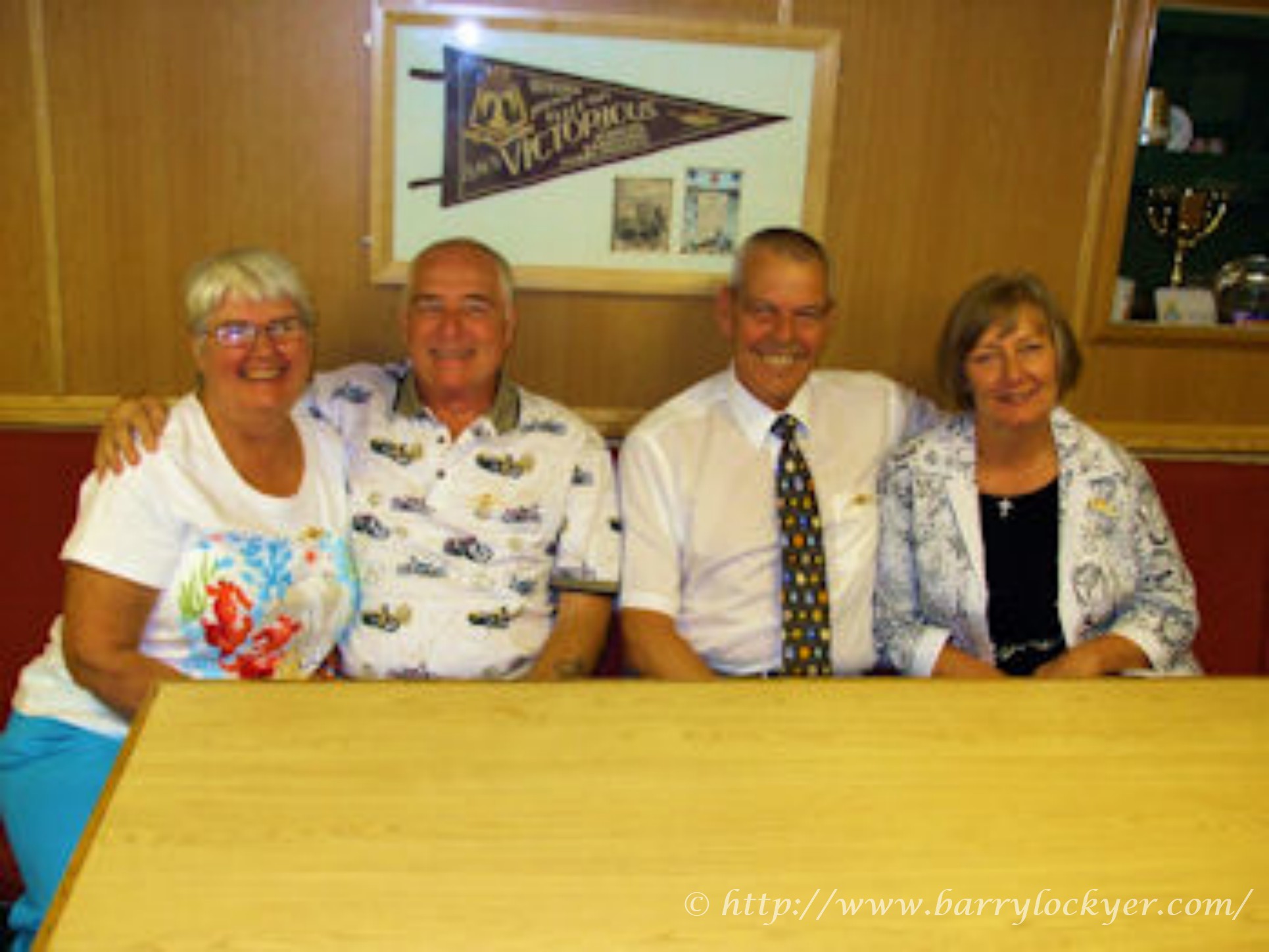 (c)
(a) Happy hour at the Fawlty Towers Port Canaveral, (b) Barry and Sharon Lockyer, Mark Durkan, Barry and Judy Snee. (c) Sharon and Barry Lockyer, Barry and Judy Snee.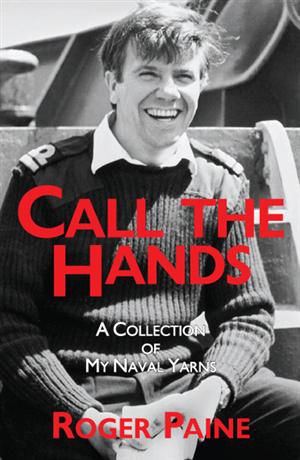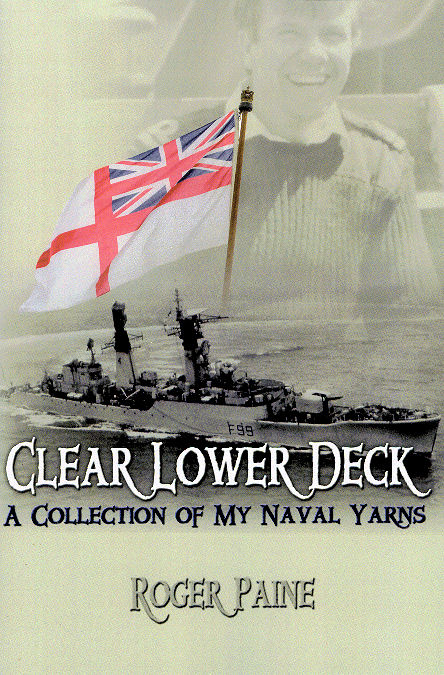 My run ashore and Exped Oppo on the Victorious 1957/60, Roger (Whacker) Paine wrote the above book,
Call The Hands, in the UK and now published in America as Clear Lower Deck.
It makes a jolly good read.
Available from Amazon:
http://www.amazon.com/Clear-Lower-Deck-Collection-ebook/dp/B007CO09AI
*********************

In Memory of shipmates who have crossed the Bar

Updated List of Members
As of 12th May 2009
Name Rank/Rate Period at the time on board
Barnden Tom PO/EL 63-64
Bartholomew Fred A/B 60-62
Beasley Brian CPO SA 62-64
Bettridge Derek N/A AH2 58-60
Bird Brian LME 57-58
Blackshaw Mel MEM1 65-67
Blaymires Arthur L/Patrolman 60-62
Braybooke Alec CAA(A/E) 66-67
Brinsley Sheridan James Lt Cdr 64-67
Brown Gerry MEM1 65-67
Buckley Jim LEM(A) 67-68
Caldecott Tim POME 60-64
Chambers Derek L/Coder(Ed) 58-59
Chambers Eddie PO Wtr 65-67
Climo Dave PO Wtr 65-67
Cook Jim RO2(G) 60-61
Cooke Charlie AB(G) 64-65
Cooper Derek Ord 46-48
Cowan Bob R/Marine 61-62
Cragg Jim Seaman 61-63
Crew Arthur ME1 44.46
Cross Joe (Dr) Lt(SD)(AV) 65-67
Davis Charles PO(CEL) 65-67
Durkan Mike PO Wtr 57-60 RIP May 1st 2016
Evans David Seaman 60-62
Garner Geoff AB (RP2) 57-62
Goldsmith Brian AB 66-67
Goodship Richard L/H(AWSP) 64-66
Greenwood Steve NA(AH3) 58-60
Griffin William L/Stwd 58-60
Haigh John LME 58-63
Hargest Ron LME 59-64
Harris William El Mech(A)3 66-68
Haughton Derrick LME 60-64
Haworth John Wtr 46-47
Helm Colin CPO Artificer 58-64
Helm Geoffrey REM1 62-64
Hotchkiss G. Doug Lt(SD) 64-66
Holden John SA (V) 62-64 RIP 17th May 2009
Humphries Dennis L/AM 814 Sqdn 64-65
Humphries Mike LEM(Air) 803 Sqdn 61-62
Hutton Charles NAM(A/E) 58-60
Jenkinson Edgar ME1 57-62
Jones Hadyn EM 65-67
Kemlo Alfred NA1 58-60
King Brian L/CK 63-64
Light Arthur Lt (SD) 64-66
Lockyer Barry SA (S) 57-60
Longhurst Andrew Stwd 814 Sqdn 63-66
Lusher Michael LME 64-67
Marr Donald Chef 58-59
Matthews Peter EM(Air) 61-62
McAvoy George Cpl RM 60-62
McLellan Stanley LME 60-64
McSweeney Stuart MEM1 65-67
Mills Mike Stwd 58
O'Callaghan Dan L/Air 64-65
Oakes James POME 65-66
Osborne John LAM 59-60)
LAM 801 Sqdn 63-64)
POAM 814 Sqdn 66-67)
Parkinson Richard MET 2 64-65
Parks Vince CK(O) 66-67
Phillips Anthony Phil L/CK (S) 65-66
Piper John PO (RP2) 65-67
Riley Mervyn MEM1 58-60
Robertson Robert LEM 58-64
Rowsell Arthur NAM 60-64
Salter Terence JEM1(Air) 63-65
Scargill Brian AB 60-64
Smith Robert AEM 893 Sqdn 66-67
Snee Barry J/S (RP*) 64-67
Swanwick Ron PO (Air) (AH) 58-60
Tennick Brian Stwd 65-67
Thirrouez Norry ME1 63-65
Thomas Alex ME1 64-65
Thompson Arnold PO REL(Air) 63-64
Tipping Neville SA(S) 59-62
Topliff David CK 60-62
Tribbeck Norman CAA (A/E) 57-60
Turner Stuart AB 64-65
Walker Richard PO (RP1) 65-67
Walker Alan LA (AH1) 60-62
Willett Alec NAM(O) 63-64
Willett Peter RO1(W) 62-63
Williams Frank Ord 48
Wilson David AB 57-59
Yates David AB 65-68
Yorke Dudley CK(S) 63-64
Associate Members
Evans Diana ... ... ... ...
Widow of Tom Evans
Hutton James ... ... ... ... Web Designer 14th March, 2008

Video copies of the " Floating Fortress ", filmed onboard H.M.S. Victorious, 1959, are available from
The Imperial War Museum http://www.iwm.org.uk/
-------------------------------------------------------------------------------------
We can now produce DVD copies of the film. The total cost of generating bespoke copies would be £27.61 (inclusive of VAT, P+P and a blank disc).
Yours sincerely,
Matthew Lee
Research Assistant, Film and Video Archive Imperial War Museum, Lambeth Road, London SE1 6HZ, UK
Tel: (UK) 020 7416 5294 (International) +44 20 7416 5294
Fax: (UK) 020 7416 5299 (International) +44 20 7416 5299
Website:
www.iwm.org.uk
E-mail: mlee@iwm.org.uk
****************************

HMS Victorious, The Floating Fortress, videos have been removed from Utube

Two good web sites with The Victorious's history as the USS Robin.
http://www.armouredcarriers.com/uss-robin-hms-victorious/
http://www.armouredcarriers.com/hms-victorious-kamikaze/

Check my
Royal Navy
and
HMS Victorious
web pages for photographs, if you have any and you would like to see them on these web pages, forward copies to me and I will consider them for inclusion.